Police forces around the Pacific have been caught off guard by the growth of the methamphetamine trade in the region.
That's the view of a specialist in transnational crime and drug trafficking in the Asia-Pacific.
Photo: RNZ / Claire Eastham-FarrellyListen to more on Dateline Pacific duration5′ :40″Add to playlistDownload
Listen to more on Dateline Pacific
The deportation policies of Australia, New Zealand and the United States have foisted criminals on the region with expertise and networks beyond the capacity of local police according to Jose Sousa-Santos.
Mr Sousa-Santos is the managing director of Strategika Group which advises Pacific law enforcement agencies.
He recently headed from New Zealand to Fiji to talk with Defence, Foreign Affairs and law enforcement about a regional response to transnational crime and drug trafficking.
"Currently what we're seeing is a state-by-state response to drug usage and to the emergence of not just regional indigenous criminal networks but also to transnational criminal syndicates," Mr Sousa-Santos said.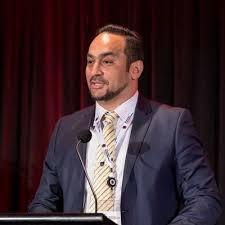 Jose Sousa-Santos is the director of Strategika Group Asia-Pacific. Photo: Jose Sousa-Santos/Twitter
"So their response would definitely have to be a regional drug enforcement agency where co-operation would be key."
Criminal groups are beginning to link-up beyond national borders, he said, and are emerging into a regional network with the worst affected islands being Fiji, the Samoas and Tonga.
"But then you also have Asian criminal syndicates, South American criminal syndicates and drug cartels who utilise the Pacific as a thoroughfare to access both Australia and New Zealand drug markets which are much more profitable, and they have the greater impact on the Pacific," he added.
This is due to the porous borders of oceanic Pacific nations according to Mr Sousa-Santos and the small numbers of regional law enforcement personnel who are ill-equipped to patrol such vast exclusive economic zones.
"But what we're starting to see now – especially with the return of the deportees and the deportee policies from Australia, New Zealand and the US – is the creation of a local market for methamphetamines. And this is where there has been a change in the dynamics."
Imported criminal expertise
While the Pacific remains key for the movement of cocaine from South America and methamphetamine from South East Asia to markets in Australia and New Zealand, Mr Sousa-Santos said, a local market for meth has exploded.
This is largely due to the criminal expertise and networks that arrived with the deportees, he said.
The executive director of the Pacific Islands Chiefs of Police (PICP) Secretariat agrees.
"Deportees that have been deported for reasons of their own criminal history often bring with them a network. So they often have contacts and others they know who also operate in that organised crime world and it's those connections or networks that I think are a bit of an enabler of the movement of commodities like drugs through the Pacific," Carl McLennan said.
The PICP is the regional law enforcement co-ordination agency and part of the unified effort to combat meth.
Mr McLennan, who is also a superintendent in the New Zealand Police, said that at the Secretariat's recent annual meeting, this year in American Samoa, the 21 regional police chiefs discussed what else was needed beyond law enforcement.
"What more can be done within communities to look at the harm reduction side," Mr McLennan mused.
"We know that there are good organisations like the Salvation Army doing good work in the Pacific to look at addressing the issue of the users and how we reduce the harm but there's more still to do."
Illicit Drugs and firearms seized by police in Tonga. Photo: Tonga Police
Much more according to the team leader at the Salvation Army's Alcohol and Drug Awareness Centre in Tonga.
Tonga needs a rehabilitation centre, Ned Cook said, to address harm reduction from the meth "tsunami" but said they needed funds.
"So that we can provide a proper bridge programme which starts with detox and then residential day programme, after care, and then follow them up for at least a year. A rehab or residential rehabilitation centre would really help," he said.
There is currently only the ability to provide 10-week block courses on drug education in the kingdom and court referrals for these have more than doubled since Mr Cook started them in January. There is no capacity or funds to address drug addiction from a health perspective.
The drug trade has the money though and it's being used to corrupt.
In early September, a suspended Tongan police officer was among six people arrested on drugs charges. In April a senior customs official was arrested in relation to the interception of $US2.6 million in drugs smuggled from the US including more than six kilograms of methamphetamine.
In American Samoa, 'ice' as it's known locally has reached "crisis" levels according to territorial lawmaker Andra Samoa with children as young as elementary school age being targeted.
Dealers and users are well known to authorities said Ms Samoa, yet many are protected by family members in high places. And despite the pervasiveness of the problem, the US territory lacks the infrastructure and expertise to deal with what drives major social and criminal issues, the Fofo District faipule said.
"We have a lot of the prisoners that are in prison because of the drug problem. And you have the effect of the drug, ripple-effect into assault, vandalism, beating-up, bullying. The effect of the ice you cannot control," Andra Samoa said.
Strategika's Jose Sousa-Santos agrees, saying a greater unified strategy is essential.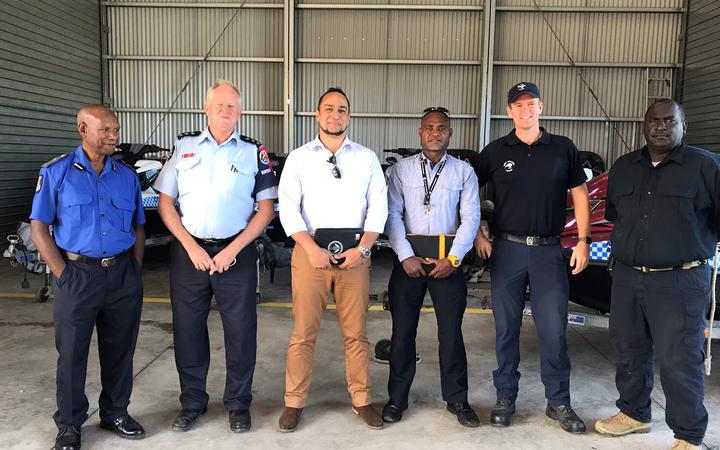 Jose Sousa-Santos, third from left, with Papua New Guinea, Australian and New Zealand police advisors on trafficking and border security. Photo: Supplied
"What we need to see is greater co-operation between law enforcement, civil society and also with the organisations and agencies which are dealing with the fallout of the movement of drugs into the Pacific which are dealing with the addiction, the drug addiction, which are dealing with the domestic violence and with the greater criminality in the region."
Funding for programmes are urgently needed across the region, Mr Sousa-Santos said, and that Australia's 'Pacific step-up' and New Zealand's 'Pacific reset' programmes should direct funding to this priority area.
There are other funding options according to the PICP head Carl McLennan who said there were other donor agencies looking to help at their recent gathering in American Samoa.
"For example we had the United Nations Office on Drugs and Crime who were prepared to offer funding and assistance to look at things like legislation gaps," he said.
"I guess my general observation is, there's a plethora of agencies out there at the moment who are wanting to do things in the Pacific."
However, the challenge for the Pacific Islands Chiefs of Police Secretariat, Mr McLennan said, is to direct policing efforts in the right way to the right problems.
Jose Sousa-Santos would like to see some of it directed to a dedicated regional drug enforcement agency. More